This section explains each difficulty rating in more detail, and the necessary technical skills required. It assumes that the riding conditions (light, weather, ground etc.) are ideal.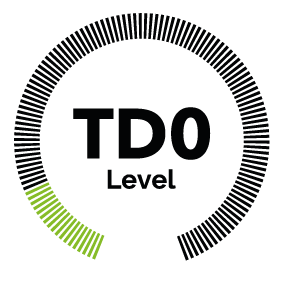 TD0 (Very easy) - TD0 are routes without any particular difficulties. They run mostly on unsealed roads or paths on a natural surface with good grip, or compact gravel. Steps, rocks or roots are not to be expected. The gradient will be slight to moderate, turns are not tight. These roads/ trails can generally be ridden even without any particular technical MTB skills.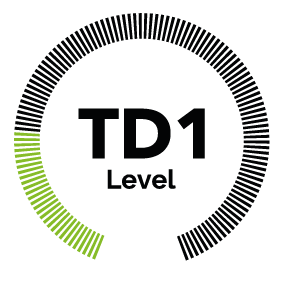 TD1 (Easy) - On TD1 routes, you will have to ride over smaller obstacles such as flat roots and small stones/rocks. Very often you'll find that the odd gulley or erosion damage is the reason for this difficulty rating. The surface may not always be firm. The gradient would have a maximum of 40%. The turns are generally wide. TD1 routes will require basic technical MTB skills and constant attention. The trickier passages call for dosed breaking and body displacement. They should generally be ridden in a standing position. Obstacles can generally be rolled over.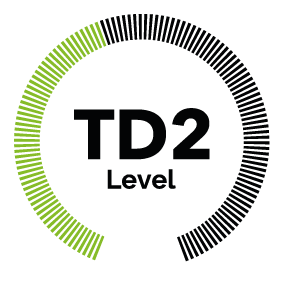 TD2 (Somewhat difficult) - TD2 routes often contain larger roots and stones/rocks. The surface is frequently loose. Steps can be expected. Often there are narrow/tight turns and the gradient can be up to 70% in places. The obstacles require body displacement to be successfully ridden. Readiness to break at all times and the ability to shift your centre of gravity are necessary techniques, as well as the ability to regulate the pressure of your breaking and hold permanent body tension.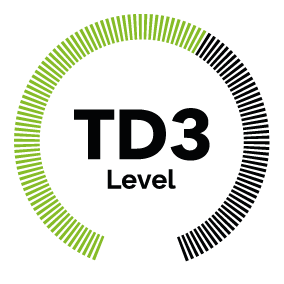 TD3 (Difficult) - Blocked singletrack with larger boulders, tricky rock gardens and/or root passages can be encountered on TD3 routes. There are often higher steps, tight hairpin turns and tricky traverses. The opportunities for relaxed rolling are rare. The surface is often very slippery due to loose materials. A gradient of over 70% is not unusual. Sections with this difficulty rating require you to have very good bike handling skills and unbroken concentration. Exact breaking and a very good sense of balance is required.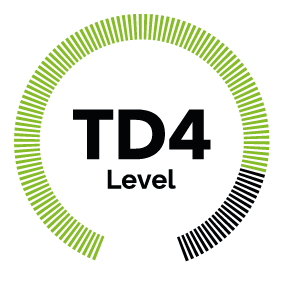 TD4 (Very difficult) - TD4 routes include very steep and blocked singletrack, with large boulders, challenging rockgardens and/or demanding root passages, as well as frequently loose scree. Very steep slopes, narrow hairpin turns and steps on which the cogs unavoidably touch are frequent features on TD4 routes. In order to safely ride this category route, techniques such as being able to move the front and back wheels sideways (e.g. in hairpins) are absolutely essential, as well as outstanding breaking technique and balance. Even carrying a bike up such passages is often not free from dangers.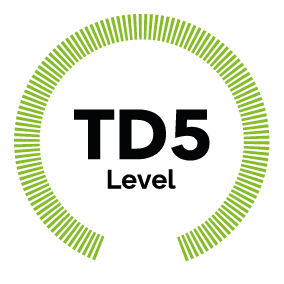 TD5 (Extremely difficult) - TD5 routes are characterised by blocked terrain with counter climbs, scree slopes and severe erosion, extremely narrow and tight turns, multiple obstacles (e.g. fallen trees) – frequently in extreme steepness (cliffs). Very little if any breaking time. Obstacles may at times need to be ridden in combination, and many of them have to be jumped over. Hairpins are so tight that moving the wheels sideways is hardly possible, even carrying the bike would be almost impossible as you need your hands to hold on, or even climb."
Fitness Level (FL) scale for MTB & eMTB
Consider all factors and identify which level best describes your current MTB riding routine. The scale is merely a guide. If you are unsure of which level to choose, please speak to any of our staff, they will be happy to assist you in making the right choice.
Basic You ride an MTB once a week, in general for at least an hour each time, on mixed surfaces, including a few short hills.
Medium You ride an MTB twice a week, in general for at least a couple of hours each time, on mixed surfaces, including a few long hills.
High You ride an MTB ˃2 times per week, in general for at least a couple of hours each time, on mixed surfaces, including long hills.
General e-MTB
Our e-MTB tours are well suited for MTB riders who have good bike handling skills, but don't necessarily want to push themselves too hard on the longer, tougher climbs. The routes are a great mix of broken dirt roads and singletrack, amongst mountains, valleys and along the southern coastline. Some sections of winding asphalt roads do exist, mainly as connections between the various riding areas. Furthermore, all the routes have some technically challenging sections (T2 and/or T3) which require some extra focus and effort. In general however, it is the elevation that makes these rides 'advanced', more than the technical difficulty, but with our great e-MTB's it's pure joy! Join us on these great mountain bike adventures that showcase the hidden offroad gems of south-central Gran Canaria. Let's GO!